L'Associazione, libera e apolitica, ha lo scopo di favorire la conoscenza e l'utilizzo da parte dei pazienti e dei loro familiari dei migliori dispositivi bio-tecnologici a disposizione per la cura del diabete mellito.
LINEE GUIDA 2017 SU COME MODIFICARE INSULINA E ALIMENTAZIONE NELLE PERSONE CON DIABETE MELLITO TIPO 1 NELLA PRATICA DELL'ATTIVITA' FISICA
Premesse:
ogni persona in terapia insulinica che pratica attività FISICA è un caso a sé, in cui modifiche delle dosi di insulina ed eventuali supplementi carboidrati vanno concordati con il proprio diabetologo/a
numerose sono le linee guida che si sono susseguite nel tempo
attualmente l'utilizzo del sensore del glucosio ed eventualmente (ma non necessariamente) del micro permettono un controllo in tempo reale delle alterazioni glicemiche indotte dall'attività fisica
queste sono le indicazioni più recenti, pubblicate sull'ultimo numero di Lancet, che distinguono tra attività fisica aerobica (corsa, cammino, bici, nuoto) ed anaerobica (calcetto, pesi in palestra, tennis, arrampicata), tra momenti con insulina residua elevata (entro 2-4 ore dall'ultima dose di insulina) o bassa (dopo 4-5 ore) da tenere presente insieme alla glicemia del momento, delle frecce di tendenza, ed alla conoscenza dei momenti più a rischio di ipoglicemia (attività aerobica di durata superiore ad un'ora, subito dopo l'attività fisica aerobica, durante la notte se l'attività è stata svolta nel tardo pomeriggio o di sera.
Attività meno di 30 minuti

Insulina residua alta : 15-20 gr di carboidrati dopo l'attività

Insulina residua bassa o assente : 10-20 gr dopo

Attività 30-60 minuti

Insulina residua alta : 15-30 gr di carboidrati ogni 30 minuti

Insulina residua bassa o assente : 10-15 gr di carboidrati con esercizio aerobico di bassa/media intensità, 10-20 gr dopo se di altà intensità

Attività tra i 60 e 150 minuti

Insulina residua alta : fino a 75 gr di carboidrati ogni orandurance" prolungato

Insulina residua bassa o assente 30-60 gr di carboidrati ogni ora

Ridurre il bolo o dose del pasto se è prevista attività fisica prolungata entro 2 ore dal pasto (maggior parte della dose del pasto deve ancora entrare in circolo)

, che non è necessario se l'attivtà è breve o anaerobica

Ridurre la basale del 20% se l'attività fisica è ogni 2-3 giorni, se c'è un frequenza elevata di esercizio di "endurance"
ed ecco il testo originale
Patients with type 1 diabetes and their providers should recognize how the form and intensity of exercise affects glucose control, according to a recent consensus statement published in the Lancet Diabetes & Endocrinology.
"Regular exercise has long been known to be beneficial from a cardiometabolic perspective for people living with type 1 diabetes. It has also been known to make glucose control more difficult," Michael C. Riddell, PhD, professor and graduate program director at the School of Kinesiology and Health Science at the Muscle Health Research Centre at York University in Toronto, Ontario, Canada, told Endocrinology Advisor in an interview.
"This recent consensus document highlights the known beneficial effects of regular exercise in type 1 diabetes and how different forms and intensities of exercise impact immediate glucose homeostasis."
Dr Riddell and colleagues performed a PubMed search of nutrition and glycemic-based terms for studies involving patients with type 1 diabetes or insulin-dependent diabetes between January 1990 and July 2016 in which physical activity or exercise was involved. The review of the literature was divided into sections involving management of glycemia, exercise, and nutrition, as well as goals for exercise, contraindications of exercise, and tools for exercise management in patients with type 1 diabetes.
"Acute aerobic exercise [typically causes] increases in glucose disposal that cannot be matched by increased hepatic glucose production in type 1 diabetes because circulating insulin levels do not drop rapidly enough at the time of exercise," Dr Riddell told Endocrinology Advisor. "In contrast, elevations in catecholamines and other counterregulatory hormones, and perhaps increases in muscle metabolites like lactate, promote a rise in glucose concentrations during very high intensity anaerobic sports."
Dr Riddell said that, in response, insulin delivery during aerobic exercises should be reduced as a response to glucose levels, whereas insulin delivery after anaerobic exercises should be increased.
Nutrition-based guidelines recommended a meal before exercise that includes a minimum of 1 g of a carbohydrate per kilogram of body weight to prevent hypoglycemia in patients with both low and high insulin, whereas the researchers recommended 10 to 20 g of carbohydrates in a meal or snack in patients with low amounts of insulin in circulation and 20 g to 30 g of carbohydrates in a meal or snack in patients with high amounts of insulin in circulation if blood glucose concentrations are 5 mmol/L (<90 mg/dL).
Exercise that lasted for up to 30 minutes should be followed by 10 to 20 g of carbohydrate for patients with low amounts of insulin in circulation and 15 to 30 g in patients with high amounts of insulin in circulation to prevent hypoglycemia in patients with a blood glucose concentration of 5 mmol/L (<90 mg/dL).
Exercise lasting between 30 and 60 minutes for patients with low amounts of insulin in circulation should be followed by 10 to 15 g of carbohydrates in low- to moderate-intensity aerobic exercise settings, whereas high-intensity aerobic exercise should be followed by 10 to 20 g of carbohydrates; to prevent hypoglycemia, patients with high amounts of insulin in circulation should consume 15 to 30 g of carbohydrates every 30 minutes, according to the guidelines.
For exercise lasting between 60 and 150 minutes, patients with low amounts of insulin in circulation should consume 30 to 60 g carbohydrates per hour, and patients with high amounts of insulin in circulation should consume up to 75 g carbohydrates per hour to avoid hypoglycemia. All patients should follow sports guidelines and adjust insulin and glycemic management when engaging in exercise lasting longer than 150 minutes.
To avoid exercise-associated dysglycemia, the researchers recommended a reduction in a patient's bolus insulin when exercising within 120 minutes of the last dose during a prolonged aerobic exercise, but it is not advised during a brief aerobic or anaerobic exercise. A basal insulin dose reduction of approximately 20% is useful for multiple daily injections if the patient exercises less than every 3 days, if there is a high frequency of prolonged endurance exercise throughout the day, or if patients are taking twice-daily insulin.
Regarding bolus insulin doses, the researchers recommended an approximately 20% decrease of nocturnal bolus insulin for multiple daily injections to reduce the likelihood of nocturnal hypoglycemia in patients performing endurance aerobic exercises in the afternoon or early evening or hypoglycemia after a brief intense aerobic or anaerobic exercise session.
They noted that patients performing endurance aerobic exercises can reduce their temporary basal rate up to 100% up to 90 minutes before exercise but recommended some basal insulin delivery "to take into account rapid acting insulin pharmacokinetics." Patients performing brief, intense aerobic or anaerobic exercise would benefit from an increased basal rate to avoid hypoglycemia.
Summary and Clinical Applicability
According to the guidelines, carbohydrate intake after exercise might be beneficial based on the patient's bolus insulin strategy, but the researchers recommended watching for the warning signs of hypoglycemia before eating carbohydrates after a brief, intense aerobic or anaerobic exercise.
AACE, ACE Dyslipidemia Clinical Practice Guidelines Update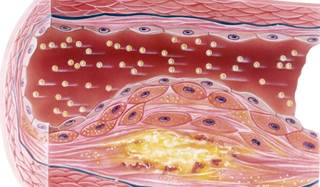 The executive summary of the guidelines 87 evidence-based recommendations that allow for nuance-based clinical decision-making.
NUOVE LINEE GUIDA DALL'ASSOCIAZIONE DEGLI ENDOCRINOLOGI STATUNITENSI : 2 aspetti importanti
1- l'identificazione di una categora ulteriore di rischio cardiovascolare: rischio ESTREMO: malattia cardiovascolare progressiva, angina instabile, pazienti con cardiopatia e diabete o insufficienza renale o iperCT familiare; in cui è indicato raggiungere licelli di LDL meno di 55
2- l'ulteriore riduzione del CT-LDL e del rischio cardiovascolare aggiungendo l'ezetimibe (ezetrol, zetia, ed altri) alle statine
The American Association of Clinical Endocrinologists (AACE) and the American College of Endocrinology (ACE) are ushering in a new era with the 2017 clinical practice guidelines for dyslipidemia management and atherosclerosis prevention. The guidelines, which have just been released online, include a new cardiovascular risk category.1 The guidelines also address a broader range of disease stages and call for more intense treatment and more aggressive intervention.
The executive summary contains 87 evidence-based recommendations that allow for nuance-based clinical decision-making. The clinical practice guidelines are intended to be a practical tool for endocrinologists to employ as a means of reducing the risks and consequences of dyslipidemia.
The new guidelines call for treating low-density lipoprotein cholesterol (LDL-C) levels in specific patient groups to lower goals than previously recommended. They also support the use of coronary artery calcium scores and inflammatory markers to help clinicians better stratify risk. Another notable feature is that the guidelines call for special consideration when it comes to patients with diabetes or familial hypercholesterolemia, women, and pediatric patients with dyslipidemia.
Extreme Risk Category
The Medical Guidelines for Clinical Practice for the Diagnosis and Treatment of Dyslipidemia and Prevention of Atherosclerosis were published by AACE in 2012. The 2017 update introduces a cardiovascular disease "Extreme Risk" category. The Extreme Risk category includes patients who have progressive cardiovascular disease, such as patients with unstable angina who have achieved a lowered LDL-C level and patients who have established cardiovascular disease accompanied by diabetes mellitus, chronic kidney disease (stages 3 or 4), or familial hypercholesterolemia.
The Extreme Risk category also includes men aged 55 years and younger and women aged 65 years and younger who have a history of premature cardiovascular disease.
"The Extreme Risk category with an LDL-C goal of <55 mg/dL is groundbreaking and represents the first time an organization has recommended this degree of LDL reduction. Much evidence has been pointing in this direction, but no recommendation until now had been made," Paul Jellinger, MD, chairman of the AACE Lipids Guidelines Update Task Force Writing Committee, told Endocrinology Advisor.
He said data from the IMPROVE-IT trial (ClinicalTrials.gov identifier:NCT00202878) helped lead to some of the changes in the new guidelines. This trial showed that the addition of a nonstatin agent (ezetimibe) to a statin therapy lowered LDL-C by approximately 24%.2 The study also demonstrated that combining simvastatin and ezetimibe, which reduces the absorption of cholesterol from the gastrointestinal tract, resulted in a significantly lower risk for cardiovascular events than that seen with statin monotherapy.
Dr Jellinger, who is a past president of ACE, said the IMPROVE-IT trial confirmed what had been observed in previous clinical trials. "Prior outcome studies revealed that those patients treated with statins achieving the lowest LDL-C values had the best outcomes," Dr Jellinger told Endocrinology Advisor.
"IMPROVE-IT was designed to test whether lowering LDL further beyond aggressive statin therapy with ezetimibe would improve outcomes. With statin plus ezetimibe, an average LDL-C of 53 mg/dL was achieved compared to the statin-alone group LDL-C of 69.9 mg/dL."
He said there were also significant reductions in the atherosclerotic cardiovascular disease (ASCVD) end points in the statin-plus-ezetimibe group. Dr Jellinger said this "lower-is-better" benefit has been further demonstrated in several large meta-analyses.3, 4
The guidelines emphasize the importance of assessing women for cardiovascular disease using instruments that determine the 10-year risk for a coronary event. They also call for diagnosing and managing children and adolescents with dyslipidemia as early as possible to try to decrease the long-term risk for an adult cardiovascular event. The guidelines are designed to improve cardiovascular disease detection and supply the necessary support for clinicians for optimal disease management.
Dr Jellinger noted that this year's update is important to endocrinologists and their patients. It is hoped that outcomes will improve in the coming months and years as these changes are incorporated into clinical practice. "The Extreme Risk category includes patients with diabetes mellitus and cardiovascular disease. Endocrinologists see such patients every day. Until now, their LDL-C goal was <70 mg/dL. Now, it is <55 mg/dL," he said.
MacRae Linton, MD, professor of medicine from the Atherosclerosis Research Unit at Vanderbilt University School of Medicine, Nashville, Tennessee, said there are several important new aspects of care that may be of particular concern to endocrinologists, including the emphasis on patients with metabolic syndrome, type 2 diabetes, and type 1 diabetes at high risk for cardiovascular disease.
"These are true clinical practice guidelines based on an enormous amount of clinical evidence that empower the practitioner to aggressively manage dyslipidemia in patients at risk [for cardiovascular disease]. The inclusion of targets for LDL, non-HDL, and [apolipoprotein] B100 is an important feature and is based on clinical trial evidence showing that lower is better in high-risk patients," Dr Linton told Endocrinology Advisor.
The creation of an Extreme Risk category further supports the need for more aggressive LDL and non-HDL lowering in individuals with progressive ASCVD, established ASCVD and diabetes, stage 3 or 4 chronic kidney disease, or heterozygous familial hypercholesterolemia, as well as those with a history of premature ASCVD.
"The inclusion of non-HDL goals is particularly important for management of individuals with hypertriglyceridemia, a problem that is common in metabolic syndrome and diabetes. There is also an increased emphasis on management of dyslipidemia in children," Dr Linton noted.
Summary and Clinical Applicability
Familial hypercholesterolemia is a common inherited cause of severely elevated levels of LDL-C and increased risk for premature cardiovascular disease that is underdiagnosed and undertreated in the United States, according to Dr Linton. It is theorized that improved diagnosis and treatment of familial hypercholesterolemia in children should lead to a reduction in premature heart attacks and death.
"The creation of an Extreme Risk category with a more aggressive LDL-C goal of <55 mg/dL may be viewed as unexpected and is potentially important. With the advent of [proprotein convertase subtilisin/kexin type 9 (PCSK9)] inhibitors, we now have the ability to achieve lower levels of LDL-C than in the past. The results of the ongoing outcomes studies with PCSK9 inhibitors will be important in terms of providing evidence as to whether combination therapy with a statin that is capable of achieving very low levels of LDL-C will significantly reduce cardiovascular events," Dr Linton concluded.
1- Lo studio, sponsorizzato dalla casa produttrice (abbott), ha riguardato 78 ragazzi tra i 4-17 anni in controllo "buono" con una media di Emogl Glicata di 7,6%, in parte in terapia con le penne in parte con il micro in cui è stato usato il FREE STYLE LIBRE per 14 giorni
2- La conclusione è che il MARD (differenza media tra stik al dito e sensore Abbott) è del 13,9%, mentre in uno studio precedente su adulti era del 11,4%; mentre nella griglia delle decisioni il sensore (in confronto allo stik al dito) permetteva di fare una correzione corretta della dose di insulina nel 99,4%. Questo è in linea con i risultati ottenuti con il Dexcon G4
3- Si conferma che nonostante il software della Abbott mitighi e offuschi il naturale ritardo del sensore sulla glicemia capillare, questo ritardo si fa sentire nelle brusche variazioni glicemiche. Se la glicemia scende rapidamente il sensore registrerà una glicemia più alta, mentre se sale rapidamente il sensore mostrerà una glicemia inferiore.
4- Quando la glicemia è vicina al normale la differenza media tra sensore e stik è inferiore al 10%.
5- Il sensore nello studio ha rilevato una ipoglicemia (registrata con lo stik) nel 70% delle volte ed in un altro 15% la glicemia era bassa con le frecce in giù: in pratica il sensore non ha rilevato l'ipoglicemia in 20 occasioni su 622.
6- La maggior parte dei ragazzi dichiarava di essere soddisfatto del sensore e di preferirlo allo stik
7- I ragazzi passavano in media 2,6 ore in ipoglicemia e 9,6 ore in iperglicemia al giorno
8- Effetti collaterali cutanei : si verificavano nel 6% dei ragazzi, con eritemia, dolore, prurito, sanguinamento nel 44% dei casi. L'eritema (arrossamento da ago o da cerotto?) era il disturbo più frequente.
9- La mancanza di calibrazione del Free Style può avere aspetti positivi e negativi.
10- Conclusione nostra: un sistema che promette con uso continuo (e forse intermittente) di migliorare il controllo glicemico anche nei ragazzi, e di ridurre le crisi ipoglicemiche gravi (ancora da dimostrare); nei ragazzi bisogna valutare l'accettabilità a lungo termine, a breve termine sembra buona; Tuttora manca un protocollo validato di utilizzo più avanzato del sensore Abbott : utilizzo dell glicemia del sensore combinata con l'informazione della tendenza (frecce) , e altre tipo di attività fisica, alimenti consumati o da consumare, insulina residua, momento del giorno, ecc).
http://adc.bmj.com/content/archdischild/early/2017/01/30/archdischild-2016-311530.full.pdf
Abbiamo un visitatore e nessun utente online